Party time! Your quilt top is done and you're almost finished! Woot!
For some, this is a time of joy. For me, well, it's a time of confusion and even dread. Why? Because of this phrase: quilt as desired.
Quilt as desired. Probably the three most intimidating words on the planet. Sure, you have the complete freedom to quilt your quilt however you want. There are no rules, after all. But what it really means is that you have to decide how to quilt it. And how do you do that?
If you want, you can choose a quilting pattern based on how the quilt will be used. After all, if it'll see daily use, you probably shouldn't bother with some intricate, carefully planned quilting pattern. For such a quilt, an allover pattern is probably best. Since Stepping Stones and Charming Stepping Stones are full of geometric shapes, I recommend a curvy pattern to soften it. My first version of Stepping Stones used neutral fabrics that reminded me of a series of stepping stones, so I choose a raindrop all over pattern that really complimented that. Because of the quilting motif I chose, I'm going to call this quilt something like "Raindrops on the Sidewalk" or "Rainy Mondays".
For a special quilt that's not a utility quilt, you might want to opt for custom quilting. Custom quilting means you choose quilting motifs for the quilt blocks, sashing, and borders. My second version of Stepping Stones featured a fun pink floral fabric. The large quilt blocks just begged for some special quilting. I wanted to focus on the strong diagonals created by the floral prints, and choose feathers for those areas. I think the result is marvelous, and I'm especially appreciative that I found a longarmer who would quilt this for me because quilting on the diagonal is not easy to do on a longarm.
Stepping Stones and Charming Stepping Stones are modern looking to me, with large areas for special quilting. For the rainbow version of Charming Stepping Stones, I chose to emphasize the modern look with modern quilting designs quilted on the diagonal.
I'm not sure yet how I'm going to quilt the gradations version of Charming Stepping Stones, but I know it has to be special. My husband things the quilt looks like ocean waves rushing to the shore, so I might go with something wavy. If you've got any suggestions, please comment here!
Meanwhile while I'm deciding on a quilting design for gradations, here are some additional quilting designs you might consider for your quilt: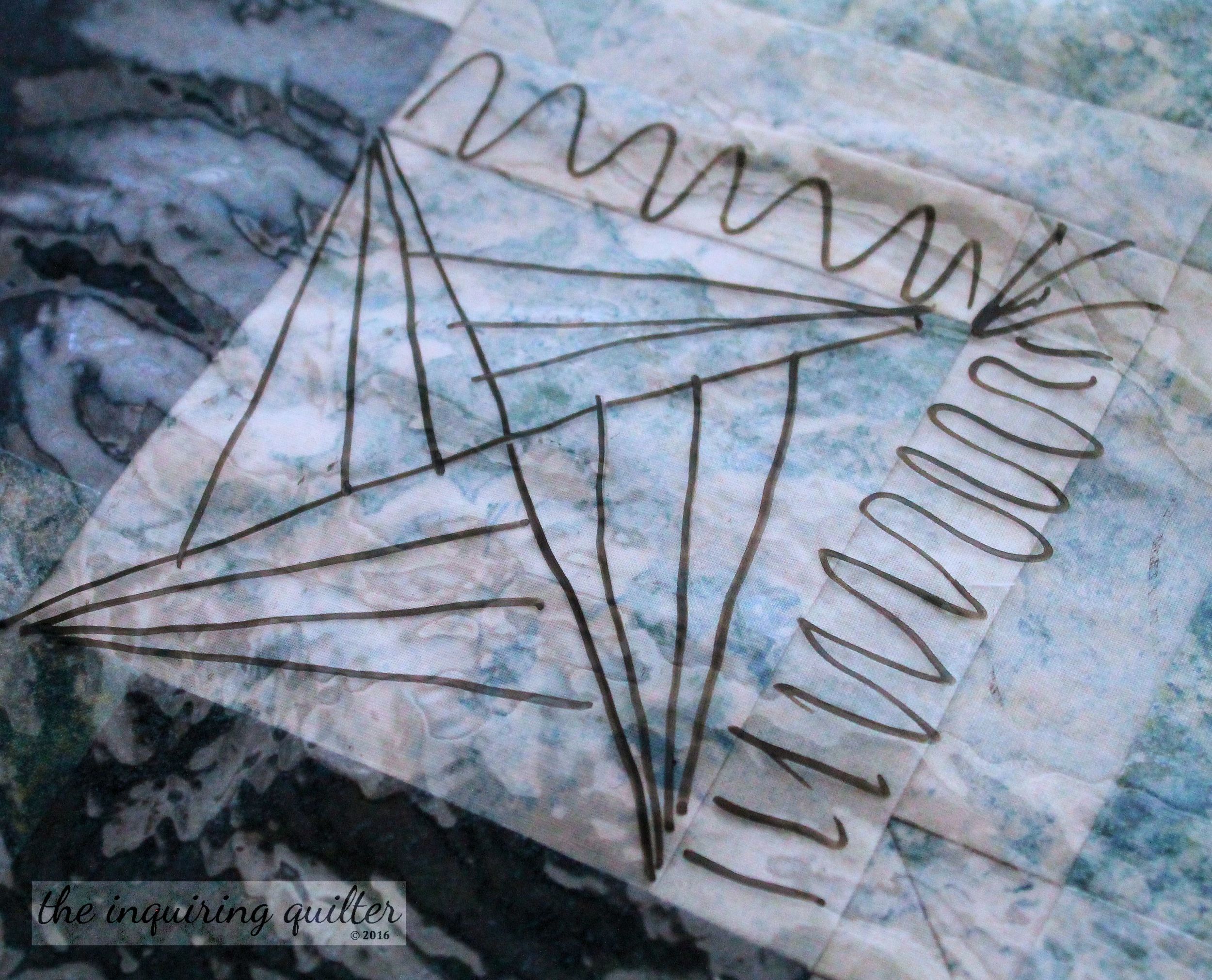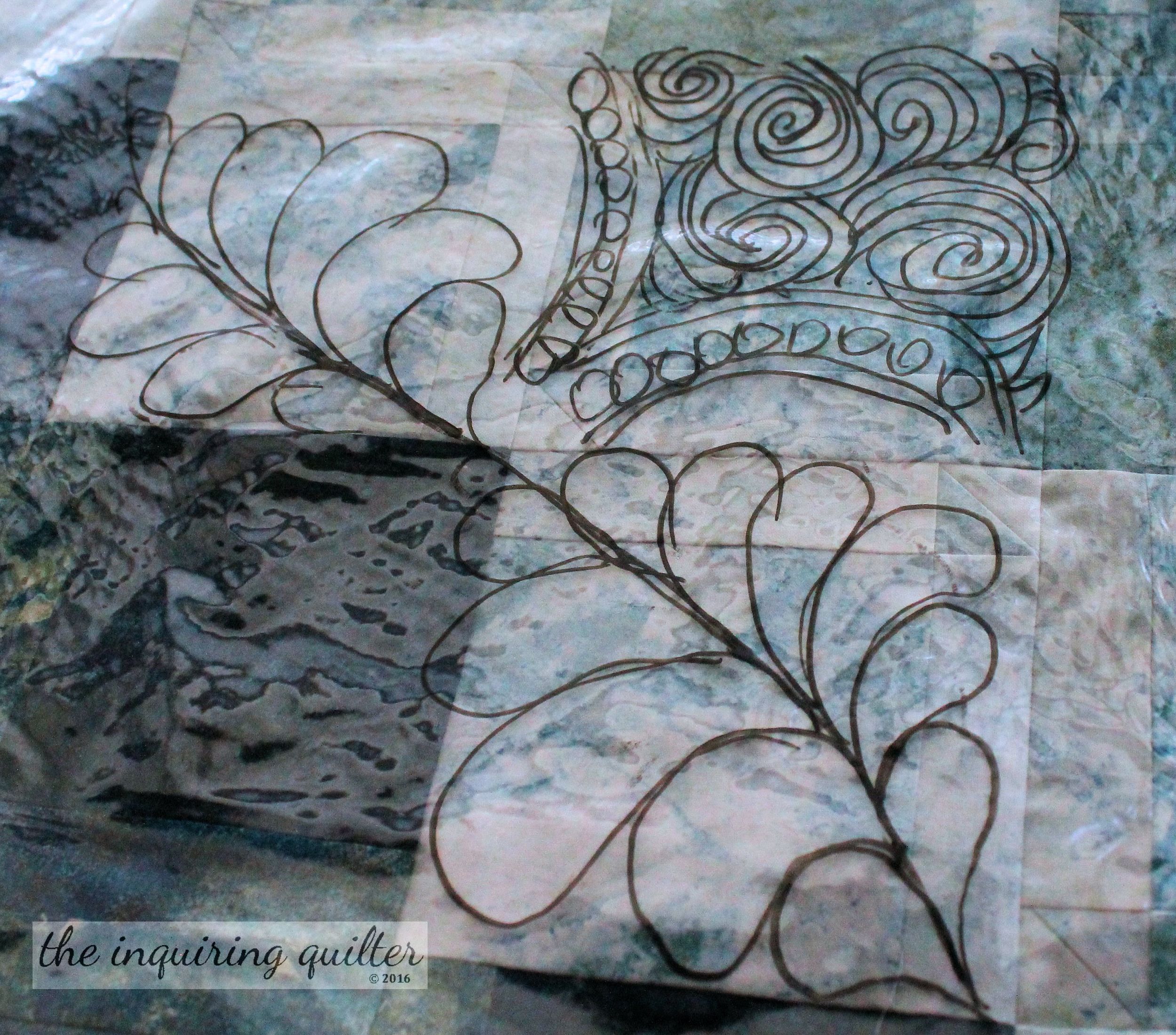 After quilting your quilt, you'll need to trim and square it up, then bind it. As a reminder, here's how much binding I told you to get.
Stepping Stones
Binding: 1/2 yard (unless you are making a scrappy binding from leftovers)
Charming Stepping Stones
Binding: 5/8 yard (unless you are making a scrappy binding from leftovers)
Cut your binding strips lengthwise for more stability. Cut them 2-1/4 to 2-1/2" wide as you prefer. Use a diagonal seam to join your strips, then press the binding in half. Attach the binding to the quilt.
Last week's Progress
Last week I saw great progress! Some of you needed to simply prep your quilt back for a longarmer, while others needed to baste your quilt for home machine quilting as well. Christine, bless her, sped through the last few steps and caught up! With two quilts! All I can say is "You go, girl!"
Let's take a look at what everyone posted.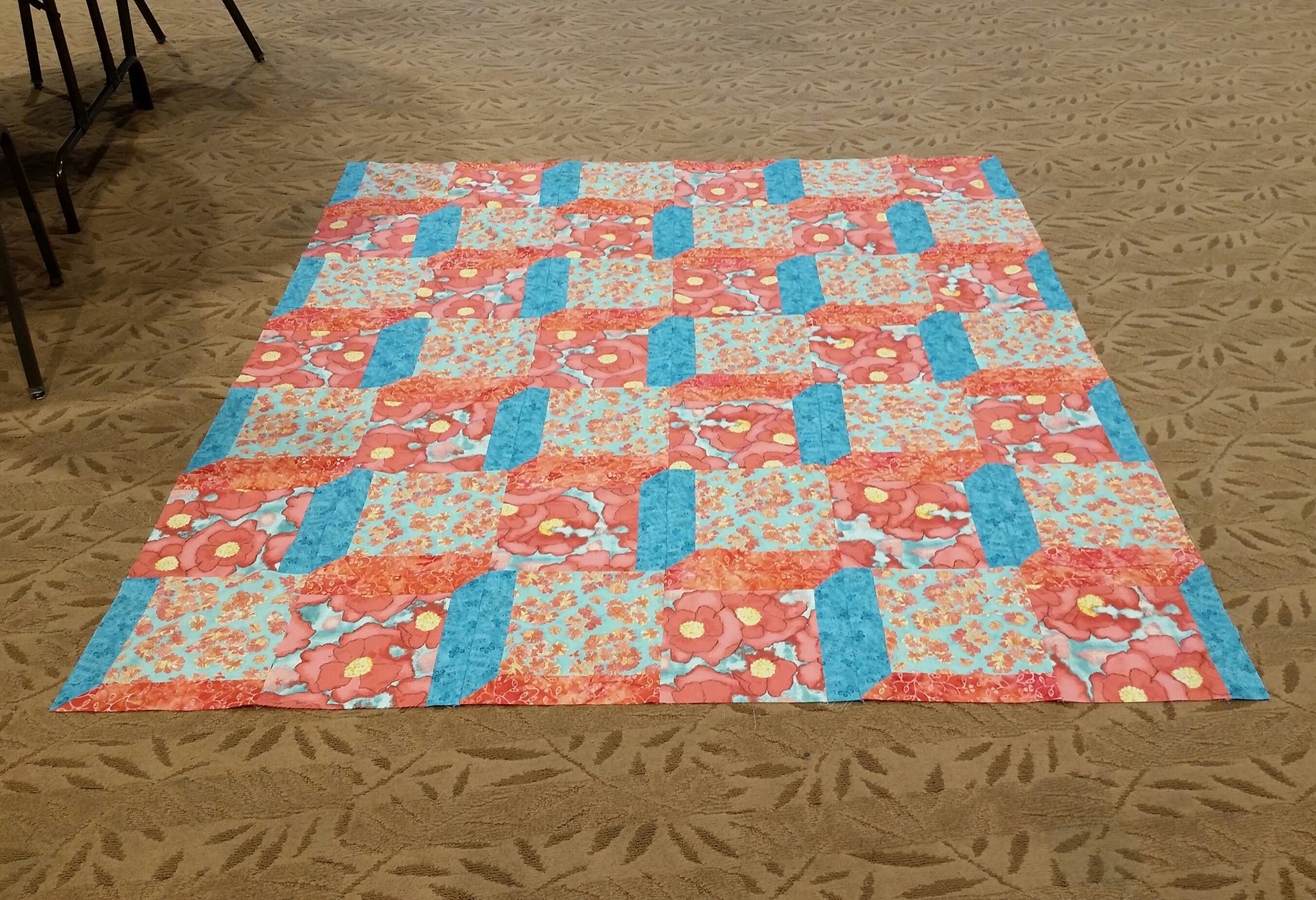 Giveaway!
Now let's find out who won last week's giveaway. Everyone who posted a new photo last week was assigned a number and Random.org identified the winner.
Congratulations Christine! I guess your hard work has paid off! I'll be sending your quilted scissor cozy to you soon.
Next week we all have the week off. We'll meet back here on May 18th for a Show It Off Party! I'll be showing off my finished quilts--hopefully gradations too--and providing lots of photos so you can really get a good look at them.
You can show off too and maybe win a prize! When you get your quilt done, post a photo of it to the Quilting with the Inquiring Quilter Facebook or Flickr groups or to Instagram with the hashtags #SteppingStonesQAL and @inquiringquilter. If you post a photo of a finished quilt by midnight EST, Tuesday May 17th, you will be eligible to win this lovely zippered pouch! Woot!
Because I want all of us to be able to show off our finished Stepping Stones/Charming Stepping Stones quilts, I'm going to host a second Show It Off Party on Wednesday, July 6th. Everyone who posts a photo of their finished quilt by midnight July 5th will receive a coupon code by email good for 20% off the patterns in my shop (printed or instant download). (You'll receive the coupon after you post, even if that's before July 5th!)
See you in two weeks everyone, if not sooner. If you want to follow my blog posts regularly, you can subscribe by email, Bloglovin', Feedly, or Quilter Blogs (see my sidebar on the right for more info). You can also follow me on Facebook and other social media by clicking the buttons at the top of my sidebar, just below my photo.
In the meantime, happy quilting!
I share my blog posts with these awesome linky parties!
Tags: SSQAL, Easy, Pieced, Modern, Featured, Finished Quilts
That's it! Good luck with the quilting, binding, and finishing, and don't forget to share your beauties on Flckr, the Inquiring Quilter Facebook page or group—not sure, and on Instagram using the tags @inquiringquilter #IQQAL. Don't show the whole quilt though—let's save that for the big reveal next week at Show and Tell.