Congrats gang! Quite a lot of you met the weekly goal and got your quilt top all put together. Others met the goal by completing the next step. Let's take a look at all these beautiful quilts!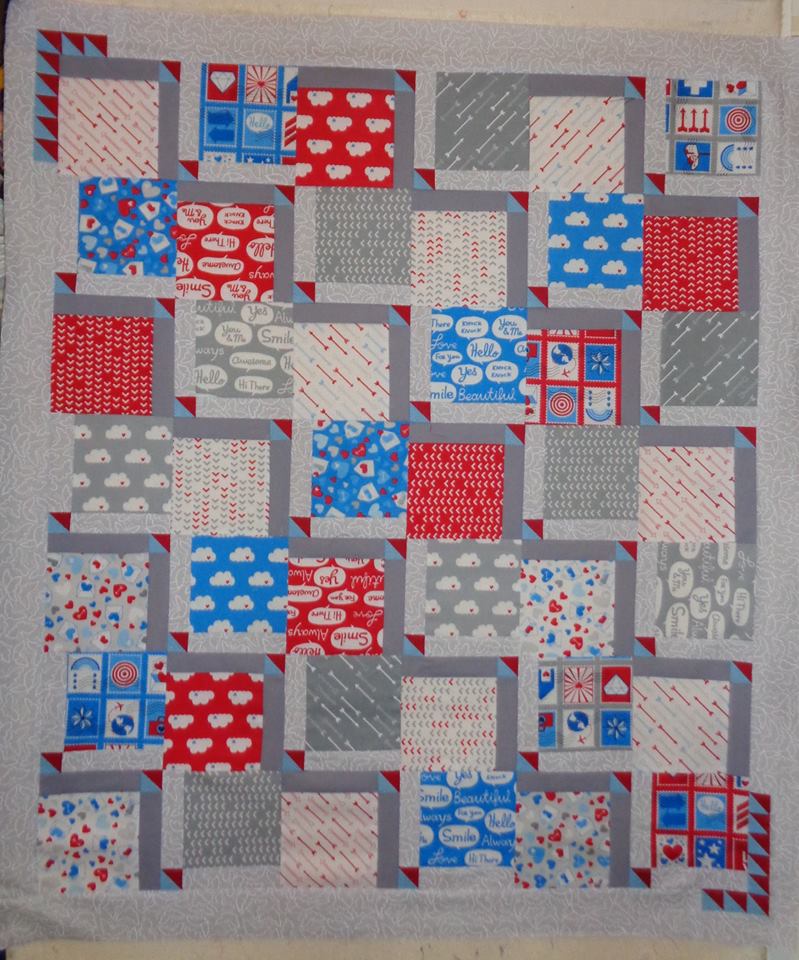 Now it's time to get your quilt all ready for quilting. I have to admit that although I find the process of prepping a quilt for quilting to be real boring, I still enjoy it because it signals the end of the quiltmaking process to me.
The next step now is to piece your quilt back. When I figure the yardage for my quilt backs, I allow for a 4" overage on all sides. This is what longarm quilters prefer, and I see no reason to argue with that. (The overage helps longarmers load your quilt on their quilt frame.) Even if you decide to quilt your quilt at home, you'll need at least 3" of overage to help you manipulate your quilt under your machine's small throat space while quilting, so it's all good.
To refresh your memory, this is what I told you to get for the backing:
Stepping Stones
Charming Stepping Stones
Take the yardage you bought for the back, and cut it in half lengthwise to create two pieces. For Stepping Stones, these two pieces will be 67.5" X WOF and for Charming Stepping Stones, 69.75" x WOF.
Sew these two pieces together along their WOF sides using a 1/2" seam, backstitching at the beginning and end of the seam. Press the seam open or to the side—whichever you prefer. Press the rest of the backing nice and flat, press your quilt top clipping any long or loose threads, then layer and baste your quilt to prep it for quilting at home.
If you're taking your quilt to a longarmer, press the back and top but don't baste the layers together. Instead, after pressing, hang your quilt top and back on hangers. This is a great way to keep everything nice and pressed until you can get it to your favorite longarm quilter.
That's it for this week! You can go ahead and quilt your quilt if you want, but you may want to hold off because next week I'm going to be focusing on quilting ideas for Stepping Stones and Charming Stepping Stones.
After we look at several quilting ideas, we'll take a week off and come back May 18th for a Show and Tell Party! I know some of you won't have your quilts done by then, but I've got ideas for including everyone and nice incentives for posting finished photos so I hope you will all join in whenever you do get your quilt done.
Giveaway time!
First let's see who won. I assigned a number to each entry yada, yada and let Random.org do all the work of randomly choosing a winner.
This week's giveaway winner is Christine. Congratulations! I've sent you an email and when I get your postal address in reply, your lovely Pixie Basket will be on its way.
This week's giveaway is this oh so cute zippered scissor/rotary cutter cozy. Pretty!
To enter, post a photo of your pieced back/top (for a longarmer) or basted quilt (for home quilting) the Quilting with the Inquiring Quilter Facebook or Flickr groups or to Instagram. Just be sure to include the hashtags #SteppingStonesQAL and @inquiringquilter. If you've joined us late, post a photo of the next step for you--whatever that happens to be. You do not need to catch up; just complete the next step in the quilt along. Post your photo before midnight EST, Tuesday May 3rd for a chance to win.
I share my blog posts with these awesome linky parties!