Welcome back to the Stepping Stones Quilt Along! Looks like fun but you've just tuned in? Click the QAL tab above for the low-down.
Hugs all around for completing those blocks! I've seen so many amazing color combinations out there. Great job, everyone!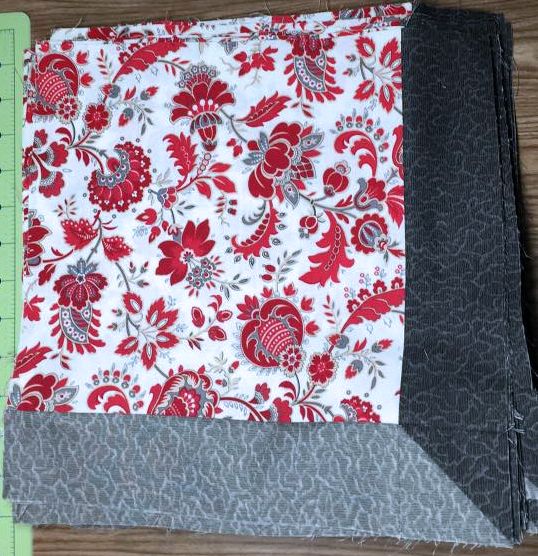 Meanwhile, I've been making progress on my blocks for the gradations version of Charming Stepping Stones.
Now that we've got our blocks made, it's time to sew them together. You can arrange the blocks with the diagonal strips going down to the right or to the left.
Whichever you decide, don't get ahead of yourself as you sew the blocks together because you have to retain the proper orientation of the blocks. With that in mind, I'm going to pause here and talk about design walls and urge you to get one if you don't have one already. First, design walls help you arrange the blocks for a quilt without having to resort to the floor. <grin> Second, design walls let you see how the fabrics, colors, and values in your quilt relate to one another. And third, after trying out different arrangements and finding the perfect one, design walls help you keep those blocks in order so you can sew them together the way you want.
Here are some ideas for creating your own design wall. If you happen to own my book, it happens to include the perfect project plan for creating one. <wink> You can also purchase a pre-made design wall from Fons and Porter or Cheryl Ann.
Now that you have your design wall <grin>, lay out your blocks. Sew the blocks into rows, pressing the seams between blocks in the same direction. Reverse this direction for Row 2, then again for Row 3, and so on. This will help you assemble the rows.
Fons and Porter sells directional pins that I find helpful for keeping track of the direction I need to press my rows.
After you sew up each row, sew the rows together. Because you pressed the seams in each row in different directions, they should nest up nicely.
Time to party! Your quilt top will soon be done, done, done!
Speaking of party, let's talk last week's giveaway. As usual, I assigned a random number to everyone who posted a new photo last week. Using Random.org, I identified a winner.
Congratulations Susie! I've sent you an email and your zippered pouch will soon be on its way to you! Woot!
This week's giveaway is this darling Pixie Basket. This basket is simply perfect for gathering your quilting tools together (including candy--my favorite tool <grin>).
To enter the giveaway, post a photo of your next step to the Quilting with the Inquiring Quilter Facebook or Flickr groups or to Instagram with the hashtags #SteppingStonesQAL and @inquiringquilter. Remember that you don't have to be caught up to enter--you just need to complete the next step in the quilt along, whatever that happens to be for you! So if you've just joined us or if you've fallen behind, you can still enter. Don't forget to post your photo before midnight EST, Tuesday April 26th for a chance to win.
I share my blog posts with these awesome linky parties!